One of the main aspects when comparing airsoft guns is who manufactures it. There are brands out there that simply ensure that you're getting a reliable and a high quality product.
If you're not sure which are the most high quality brands out there, this article is for you. Here, we ranked and reviewed the 11 best airsoft brands for 2023, as well as their flagship guns.
If you're in a hurry:
Whether you're a beginner who doesn't know a lot about airsoft brands, or a more experienced airsofter who already has some favorites, there are important things to know about the different airsoft brands.
Keep in mind, not all brands will be the best fit for everyone. Some brands create only high-end products. Other create more budget guns, but still reliable and good enough. Also, different brands will have different pros and cons.
In general, if we had to divide brands into different groups, we would divide them into two main categories: high-end brands and brands if you're on a budget.
It's up to you to decide which brand is the ideal for you.
When making this list, we took into account several factors. First of all, the quality of the materials that the manufacturer uses. Good guns should be durable and last a long time.
The reputation of the manufacturer is another crucial aspect. The best airsoft brands will be in high regard from airsofters and will have great customer reviews.
The price and the value for money is also key. Even if you go for a budget option, you don't want to compromise quality.
With that being said, here are the 11 best airsoft brands on the market in 2023.
Best Airsoft Brands for 2023
Best Airsoft Brand Overall
1. Tokyo Marui
The first place on this list is probably the easiest to guess. Tokyo Marui is a legendary Japanese company, mainly known for manufacturing airsoft guns.
In fact, it's the company that first introduced battery-powered guns in the market more than 30 years ago. It's definitely not a stretch to say that they changed airsoft forever.
Even today, Tokyo Marui is regarded as one of the best airsoft brands out there. Apart from their exceptional quality, another pro are the customization options. Given their popularity, there are many companies making aftermarket parts for TM, making them one of the easiest products to modify.
Also, Tokyo Marui guns are known to be highly accurate, durable, and made with the highest manufacturing standards.
If you're looking for a Tokyo Marui gun, some of their best products are airsoft pistols, mainly the Tokyo Marui Hi-Capa 5.1 Gas Blowback pistol. In fact, this pistol is ranked as the best airsoft pistol overall in our list of best airsoft pistols for 2023.
Although great, Tokyo Marui has some cons as well. Mainly, it's the price of their products. TM guns are among the more expensive ones, given their brand.
Another con are their AEGs, which aren't among the best on the market. Given that, if you want a Tokyo Marui piece, a pistol is an ideal choice.
Best Tokyo Marui guns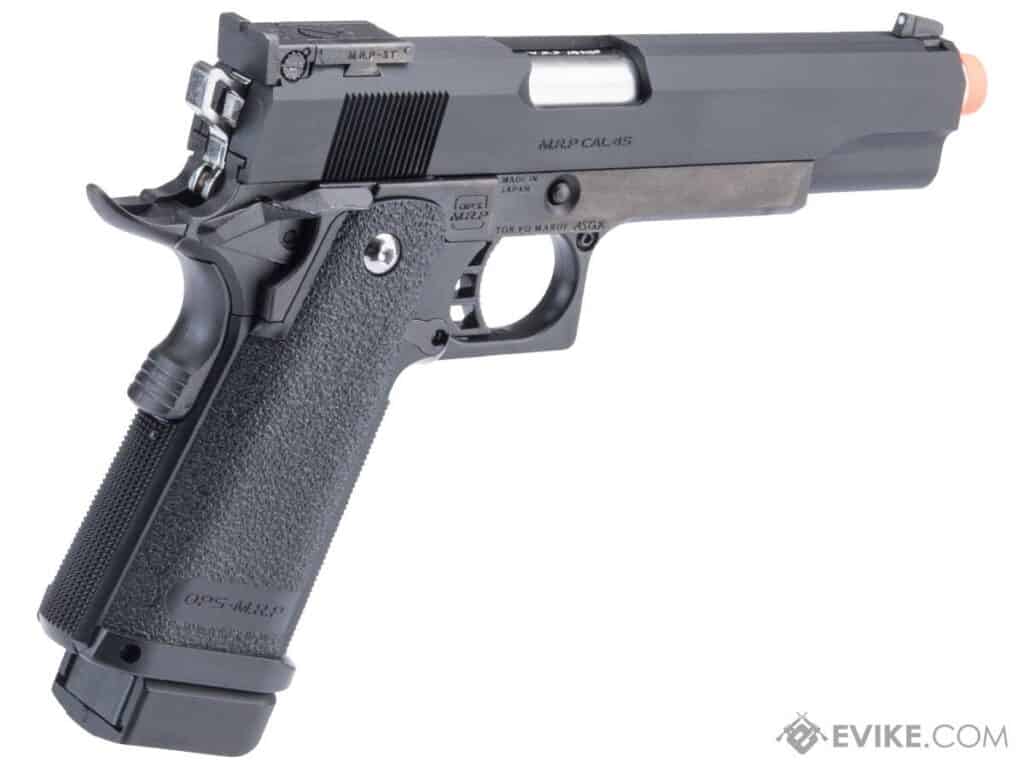 2. UMAREX
Best Value for Money Airsoft Brand
Another company manufacturing high quality airsoft guns is UMAREX. Their products are made of great materials and they're very realistic, featuring trademarks and logos.
The company is originally German, although it has a subsidiary in the US.
UMAREX has a wide variety of different products. Unlike Tokyo Marui, they manufacture both great pistols and great AEGs.
Another advantage is that their products are more affordable compared to some other companies with similar quality, especially when it comes to pistols.
Their AEGs aren't that affordable, but they're definitely worth the high price tag. In fact, UMAREX offers the best value for the money.
When it comes to their best products, the Umarex H&K 416 A5 AEG is one of the best airsoft guns overall. We actually ranked it first on our lists of best airsoft guns overall and best airsoft AEGs.
If you're looking for a pistol, you can go for the Elite Force 1911 TAC Co2, which we ranked second on our list of best airsoft pistols overall (right behind the Tokyo Marui Hi-Capa 5.1), and first on our list of best CO2 airsoft pistols.
Best UMAREX guns
3. Krytac
Compared to many other brands on the list, Krytac is a relative newcomer in the world of airsoft. They're actually affiliated with the KRISS firearms manufacturer.
Krytac airsoft guns have a great build (especially internal) and come awesome out of the box, without the need for upgrading or customizing.
This US manufacturer has some of the best airsoft guns out there. They make the Krytac Trident MKII CRB AEG and the Krytac Trident MKII SPR AEG, two similar airsoft guns that are ranked third and fourth on our list of best airsoft guns overall.
But the category where Krytac offers the best product on the market is SMGs. Their Krytac KRISS Vector SMG is ranked as the best airsoft smg on the market, and rightly so.
Best Krytac guns
4. G&G
The first airsoft company on our list that offers lower priced AEGs is G&G. This Taiwanese company is highly reliable, producing high quality guns at a much more affordable price compared to the companies ranked above it.
The very solid quality combined with the affordability makes G&G one of the companies that offer most value for the money. This makes it great for beginners looking for their first AEG.
G&G's airsoft guns are accurate, durable and sturdy. They have a wide variety of products, with some of the most popular ones being the G&G Combat Machine 16 Raider AEG (ranked as first on our list of best airsoft guns under $200) and the G&G CM16 ARP9 CQB Carbine AEG (second best airsoft SMG).
Best G&G guns
5. VFC
Maybe not as famous as the airsoft manufacturers mentioned above, VFC has a long line of products including everything from pistols to AEGs to sniper rifles.
Airsoft guns made by VFC have a great build (especially external, which is one of the best overall), and trademark and logos making them realistic. They're also a great platform for upgrading.
VFC is another Taiwanese manufacturer, known for their attention to detail and quality control.
From the plethora of options, VFC's best gun is probably the VFC Avalon Gen2 VR16 Saber Carbine M4, which we ranked as the best airsoft M4 on the market, best airsoft gun under $500, and the second best airsoft gun overall (behind the Umarex H&K 416 A5 AEG).
Best VFC guns
6. KWA
KWA is another reputable airsoft manufacturer, known for their great internal and external build. It's prices are on the higher end though, although KWA justifies that with accurate, durable, reliable, and great out of the box airsoft guns.
In fact, KWA actually makes training weapons for the military and for law enforcement. A notable thing about it is that it uses predominantly LiPo batteries instead of NiMh.
KWA doesn't have as large of a choice as some other airsoft manufacturers do, but there are still some good options.
One gun that stands out among those is the VM4A1 2.5 / M4 Carbine AEG, which we ranked as the best airsoft gun under $300.
If you're looking for a pistol, the KWA M9 is ranked as the 6th best airsoft pistol overall.
Best KWA guns
7. CYMA
Best Budget Airsoft Brand
With CYMA, we get into the territory of budget airsoft manufacturers. CYMA is a clone manufacturer, known for making much cheaper, but solid replicas of Tokyo Marui, VFC, and other high-end guns.
They're a Chinese manufacturer that may very well produce the best budget airsoft guns.
CYMA weapons are not as high quality or as durable as the airsoft guns they replicate, but they're very solid for the price. This makes them especially great for beginners.
A great example of an affordable but solid airsoft gun is the CYMA Platinum M4 QBS AEG, which we ranked as the second best airsoft gun under $300.
Best CYMA guns
8. JG
Another great manufacturer for those on a budget is Hong Kong's based JG. Similarly to CYMA, they make cheaper clones of high-end airsoft guns. In fact, they make even cheaper guns than CYMA.
For example, we ranked their JG T3-K1 Full Size Lipo Ready AEG as the best airsoft gun under $150 on the market. If you're looking for a sniper rifle, the JG VSR-10 / BAR-10 Bolt Action is a solid budget choice.
If you're a beginner on a budget, both CYMA and JG can be a great entry choice.
Best JG guns
9. WE
Another cheap manufacturer with a wide variety of airsoft guns is WE (or WE Tech).
They have some solid airsoft pistols, such as the WE / CQB Master Metal 1911 MEU Gen. 2.
Best WE guns
10. KJW
A relatively old brand with cheaper guns, KJW doesn't have a lot of choices. One of the main reasons for including it here is their KJW M9 pistol, which we ranked first on our list of best airsoft pistols for beginners.
Best KJW guns
Best airsoft pistol for beginners
11. Cybergun
One of the rare European brands on this list, the French Cybergun manufactures realistic guns that are worth the money and are beginner-friendly.
If you're into electric pistols, they make one of the best electric airsoft pistols on the market, the Cybergun Magnum Research Officially Licensed Desert Eagle AEP.
Best Cybergun guns
Conclusion
There you have it, everything you wanted to know about airsoft brands in one place. Now that you know more about the brands, you can choose the best airsoft gun for your specific needs.
All in all, in this article we considered the reputation of the manufacturer, the quality of the airsoft guns they make, as well as their price and value for the money, in order to create an ultimate list of best airsoft brands for 2023.